Engine 15 Employment Information
It's a whole new program now!! Please refer to the enclosed documents explaining how to apply. I made 2 different formats, one for Microsoft Word, and one rtf that should open with any word processing program. Also check out the outreach letter for permanent job openings we have.
MS Word Version
RTF version
Outreach Letter
For a copy of the applicant user guide, which is a good thing to print out and have handy when you apply, click here.
If you have any questions about the process, feel free to call us or send us email and we will help you through it.
---
E-mail addresses:
Dan White- District Fire Management Officer- dwhite04@fs.fed.us
Rodgers Wright- Battalion Chief- rfwright@fs.fed.us
Randy Owings- Engine 15- rowings@fs.fed.us
Dave Molina- Engine 14- dmolina@fs.fed.us
Address of the Plumas National Forest Supervisor's Office:
US.Forest Service
159 Lawrence St.
Quincy, Ca. 95971
Ph# 530-283-2050

---

Address of the Beckwourth Ranger Station:
Mohawk Ranger Station
P.O. Box 7, Hiwy 70
Blairsden, Ca. 96103
Ph# 530-836-2575

Laufman Work Center Phones
Rodgers- 530-253-2224
Randy- 530-253-1268
Dave- 530-253-2225
How To Find Us
Here are a couple of maps to help you find the Laufman Work Center:
Both maps are enlargeable by clicking on them.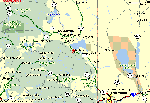 This one, will give you the general area we are in.

This one will give you a closer view and some turnoff instructions.
We usually do our hiring in the early spring, and make job offers by phone and mail. We will contact prospective employees by phone to assess their availability, and continued interest, then follow up with a hiring packet of forms which have to be filled out and returned prior to the start date.
It is very important to have the forms filled out and returned by the due date, so the necessary paperwork can be completed. Included in the forms packet, will be a form for a physical that will need to be taken. You will be reimbursed for the expense of the physical up to $130.00.
Also, prior to your report date, you will have to pass a physical fitness test. This test is called the "pack test." The pack test involves carrying a pack that weighs 45 lbs. over a 3 mile course on flat ground, and completing it in under 45 minutes. We will be scheduling the test locally, but there may be other opportunities to take the test elsewhere and provide us with the documentation when you start work.
Note: New rules now in effect have changed some requirements of how and when a person can take the test, so if you are offered a job, there will be information about that in the hiring packet.
---