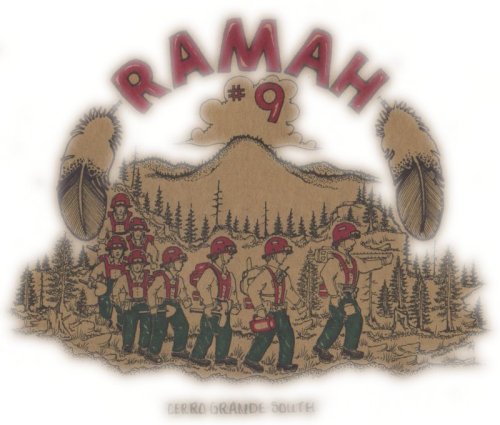 Even though Engine 14 didn't make this trip, it was my pleasure to have recently spent a fun filled 2 weeks in New Mexico on the Cerro Grande fire doing rehab work with an excellent crew from the Ramah Indian Agency. The art work above was done by "Toby" Eriacho, a member of that crew.
Rehab of the scale we did it on that incident is really unheard of, and I certainly hope that all the work that was done will prevent flooding into the city of Los Alamos when the New Mexico rains come. Below you can see some pictures I took on that trip. Click on the picture or the link below it to view full size.
Ramah
Some of these pictures need captions.
Raking- This little project was called "contour raking" where you use a McCleod to rake the ground on the slope contour. The theory was to break up the crust and allow water penetration into the soil, thereby reducing runoff. The person who thought of this obviously never had to do it on as large a scale as this. My personal feeling is that raking yields minimal benefits compared to the time spent doing it.
Straw- My crew spent the larger portion of their 14 day stay spreading straw. The straw was used in totally burned areas to cover the ground and reduce soil erosion. Try spreading straw for 10 hours a day to get a new outlook on life.
Sling- We had a squad working at the helicopter loading area, loading slings for the helicopter to deliver to different points in the burn. This greatly facilitated moving the straw bales, leaving strategically placed piles of straw all over the burned hillsides.
Vcloud- This thunderhead-looking cloud was from a fire near us that was covering some ground when I took this picture.
Ra- The crew I had from Ramah Navaho Agency plus a bus driver named Colleen in the middle. One of the best crews I have ever worked with.