2002

This year is something new. We now have 4 permanent employees on Engine 15, counting me. I finally have an FEO, Rene' got the job!!! Unfortunately, we are again going 5 days a week until Rene' get's qualified as a Module Leader. Now I'm going to need a GS-6 AFEO. I have high hopes to run a fully staffed engine module before this fire season is over. Meet this year's crew: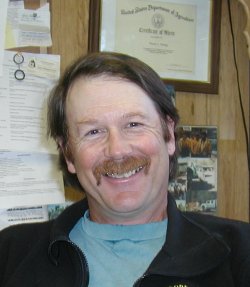 Randy Owings, Engine Captain and author of this web site. I am quickly closing in on retirement having had 25 seasons of firefighting experience. My interests these days are starting to stray from the days that firefighting was an exciting adventure. It still is mostly, but the crush of paperwork and documentation certainly detracts from the fun stuff. I could go on and on about that, but suffice to say that my interests now, computers, fishing, grandkids, etc. (not necessarily in that order) are farther removed from what they used to be. Within a few years I will be off to a new career or maybe even nothing of any particular consequence, we'll see.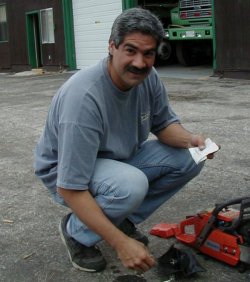 Rene' Sarabia, the new FEO, (Fire Engine Operator) is on his second season on my engine, but his 7th season in fire suppression. Rene' is an asset that I would have trouble doing without. He just completed Engine Academy in Redding, and hopefully he learned some good stuff down there. He got a Crew Boss Trainee assignment last year, but it turned out to be less than a quality assignment, so he still needs another. Rene' has worked on the Modoc, as well as here, and has had experience on a Hotshot Crew and a Helicopter. He has just bought a house in the area, so my hope is that one day, he will be the Engine Captain here, he certainly has the potential.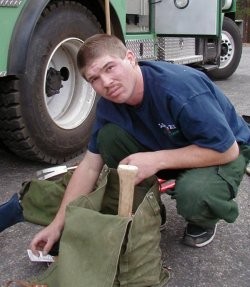 This is Jacob Rowsey. Jake, as we call him, came to us from the San Bernardino area, and this is his first permanent job with the Forest Service. He only started in early April, and since then he has been getting acquainted with the lawn mower and more recently the hose washer and tester. I guess that's better than the rake, weedeater and shovel that he'll meet soon. He is filling the Senior Firefighter position.
This is James Luna. James is the Apprentice, and has lots of training to look forward to. He attended the Basic Academy in April, and is now chomping at the bit for the first fire of the season. James worked for me last year, and did a great job, so we hired him in the Apprentice position. He is a fast learner, a hard worker, and has great potential to move up in the organization. Young, energetic individuals like James are the future assets of the Forest Service.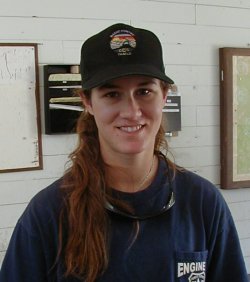 Meet Amanda Lindeman. Amanda comes to us from Stockton California where she graduated in 1995. She has about 1½ season's experience in firefighting with the CCC. She worked in 2000 maintaining and building trails in Yosemite. Amanda has 3 cats, but I don't hold that against her, and likes to dance. (just joking about the cats) Her dream job is working with manatees, but I can't hire them to work on an engine. With a couple of years of college, majoring in Marine Biology and Environmental Science, she is a fast learner and is a great asset to my crew. There is more to Amanda than meets the eye, to visit her web page, click here.
To see some pictures of what we have been doing, click here.
If you're interested, here is a page for the crew I had last year.
2001 Crew